Being the respectable and dependable London based professional cleaners we are, our experts are here for you in every situation. In addition to our very comprehensive regular cleaning services, we offer end of tenancy cleaning in London solutions that are going to be up to all your needs and requirements. Post-tenancy cleaning is an integral part of every property relocation, no matter whether it is domestic or commercial, and we are going to approach your particular project with the professionalism and care for the detail that it requires and deserves.
Advantages
Get your deposit back
Our pricing plans are carefully tailored to fit the requirements of our customers. There no hidden fees, no unfair expenses. You get charged only for the services you actually get. Easily get a free price quote or even book and pay directly online with your credit or debit card.
Eco friendly and clean
Our customers health is a top priority. For that reason we use only non-intrusive cleaning solutions that are not hazardous to people. There is no unpleasant smell or dangerous fumes after the cleaning. The solutions used will safely evaporate after a short period leaving a pleasant smell.
Complete top to bottom sanitation
There is no corner cuttin with our services. We guarantee your home will be property cleaned, with even heavy trafic arreas completetly rid of dirt and dust. From the kitchen to the wet rooms – all the premises are completely cleaned as per the requirements of even the most demanding landlord.
Schedule at your convenience
Even if you're busy you will have no problem to hire a team of cleaners to take care of your move out sanitation. Book the specialists on a date and at a time that best suit your own schedule. Wer gaurantee the cleaners will be there on time to fully clean your home.
Take us up as your cleaning company of choice and we are going to provide you with post tenancy treatment of your place exactly at the time you need it. Thanks to our flexible schedule and the willingness of our sanitation experts to service every single one of our clients in the best possible way, this is not an exaggeration at all.
A service suited to literally any situation
Call Get It Cleaned London for an end of tenancy cleaning in London if:
You are vacating rented premises and you want to make sure that your rental deposit is going to be returned by the landlord without complaints.
You are a landlord who wishes to make the apartment/house he or she is leasing more attractive to potential renters.
You would like to improve the appeal of the property you are relocating from, in case you own it and would like to sell it quicker and on the best price imaginable.
Yes, indeed we are able to make all of that happen for you – and even more.

Our cleaner are experts in stain removal from carpets and upholstery. They clean windows, de-clutter, remove trash and sanitize surfaces with proficiency any cleaner could only be envious of. Do not stress out, leave it to them to do the job, and concentrate your attention on our more urgent matters that you have on your hands.
All the benefits of end of tenancy cleaning in one place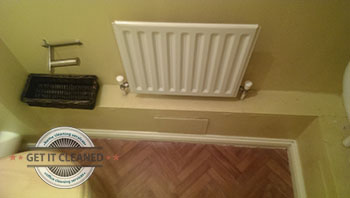 Going for our excellent end of tenancy cleaning in London service means that you are going to:
Have the property restored in a perfect condition – so good actually that no one will be able to tell someone has lived there for an extended period of time
Save much time and energy your relocation requires anyway, thus reducing the stress and strain of the whole experience
Come out with a positive budget balance, because even though you are going to pay us for the service, you will get your rental deposit back – we have nearly 100% success rate in that.
We think that all of those things make for a great offer. If you share this impression, do not hesitate to get in touch with our very helpful, available around the clock customer support operators, either over the phone or via email, in order to book your post-tenancy treatment in London with our company. You already know that is the right thing to do, don't you?