Being the respectable and dependable London based professional cleaners we are, our experts are here for you in every situation. In addition to our very comprehensive regular cleaning services, we offer end of tenancy cleaning London based teams and solutions that are going to be up to all your needs and requirements. Our tenancy cleaning checklist ensures every aspect of your property is covered, providing the best end of lease experience.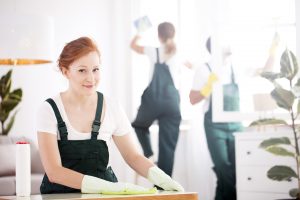 With our professional cleaning services, rest assured that every room, including the living room, bedrooms, and kitchen, will be meticulously cleaned. We highly recommend our comprehensive carpet cleaning service, which includes professional carpet cleaning of all areas, ensuring you get your full deposit back.
A London Cleaning Firm you can trust
Take us up as your end of tenancy cleaning company of choice and we are going to provide you with post tenancy treatment of your place exactly at the time you need it. Thanks to our flexible schedule and the willingness of our sanitation experts to service every single one of our tenant clients in the best possible way, this is not an exaggeration at all.
Frequently asked questions include "How many cleaners will be sent?" and "Can I book your end of tenancy service on short notice?" To answer, the size of our team depends on the property's size, and yes, we accommodate last-minute bookings for your convenience.
Post-tenancy cleaning is an integral part of every property relocation, no matter whether it is domestic or commercial, and we are going to approach your particular project with the professionalism and care for the detail that it requires and deserves.
All-in-One End of Tenancy Cleaning to Tackle Any Challenge
We want to make both tenants, estate agents and landlords happy. So, by booking our superior service, you get our:
Team – rest assured that we have highly trained, dedicated end of tenancy cleaners specializing exclusively in this type of service. Our cleaners are vetted and go through a rigorous training program before embarking on serving our clients.
Undivided attention – you book the best end of tenancy cleaning service in London without a time limit. We won't work for an hour or two, but until the job is done instead. Once the tenancy cleaners arrive and will leave the premises only after the property is back to its former glory. (Please advice on any parking fees that should be paid in advance)

High quality

cleaning equipment, cleaning materials and detergents – all end of cleaning jobs in London we are hired for are completed with state of the art tools and supplies. We don't use generic products, but rather strive to choose the best kind for the specific job.
For a comprehensive service, we include professional oven cleaning and external window cleaning in our checklist. These tasks require special attention and expertise, which our team provides. Our deep oven cleaning service ensures that your oven is not just clean, but also polished and restored to its original condition. What's more, our move-out professional cleaning service is tailored to suite your requirements. You think our cleaners will need to pay special attention to the kitchen appliances, or the bathroom at the property? Just tell us, and we will bring our game-plan, tools and know-how to tackle even the greatest challenge you have in store for us.
A service suited to literally any situation
Call Get It Cleaned for an end of lease cleaning service in London if:
You are vacating rented premises and you want to ensure that your rental security deposit is going to be returned by the landlord without complaints.
You are a landlord who wishes to make the apartment / flat / house he or she is leasing more attractive to potential renters.
You would like to improve the appeal of the property you are relocating from, in case you own it and would like to sell it quicker and on the best cost imaginable.
Yes, indeed we are able to make all of that happen for you – and even more.
Our cleaner are experts in stain removal from carpets, oven, fridge, dishwasher, windows inside and outside, toilet and furnishings. Clients who have used our service would definitely recommend our skilled team for an immaculate end of tenancy clean, as we exceed expectations with our thoroughness and attention to detail, and we make sure you get your deposit back.
Windows Cleaning as part of the Service
They clean windows, de-clutter, remove trash and sanitize surfaces with proficiency any cleaner could only be envious of. For a more focused clean, our washing machine cleaning service ensures that your laundry appliances are also thoroughly cleaned and sanitized. They clean windows, de-clutter, remove trash and sanitize surfaces with proficiency any cleaner could only be envious of. Do not stress out, leave it to them to do the job, and concentrate your attention on our more urgent matters that you have on your hands.
Carpet Steam Cleaning is also included in the Service
To ensure the property is in top-notch condition, we offer steam carpet clean-up as part of our service. Our end of tenancy cleaning methods are well known for their effectiveness in removing deep-seated dirt and stains, ensuring your carpets look as good as new. Clean carpets and upholstery significantly enhance the overall appearance of any home. Additionally, our end of tenancy cleans depend on the size of the property, ensuring that every area is given the attention it needs for a comprehensive clean. Our tenancy cleaning services in London are designed to cater to all your cleaning needs when it comes to moving out of a rental property. In addition to our comprehensive domestic cleaning services, we offer specialized end of tenancy cleaning services that ensure you leave your rented premises in impeccable condition. Our team of professionals is part of one of the most efficient and professional cleaning companies in the area, guaranteeing satisfaction. We're transparent about our end of tenancy cleaning prices, so you know what to expect with no hidden fees. We understand the importance of getting your deposit back, and our team of professional technicians is available to guarantee that for you.
Upholstery Cleaning – included
One area that often requires special attention during end of tenancy cleaning is furniture padding and cushioning. Our expert move out cleaners are experienced in performing upholstery cleaning, ensuring that your furniture looks fresh and revitalized. We use professional-grade tools and machines and environmentally-safe cleaning detergents to remove any stains, dirt, and odors, which will definitely leave your furniture looking as good as new.
Carpet Cleaning – included
Carpet cleaning is another essential aspect of our reliable service. Our team will deep clean your carpets, paying special attention to high-traffic areas that tend to accumulate dirt and grime. This deep cleaning extends the life of your fabrics and improves the air quality in your home. We use advanced techniques to remove embedded dirt and stains, leaving your carpets spotless and fresh.
When we say thorough cleaning, we mean it. Our deep cleaning services cover every nook and cranny of your property. From the kitchen to the wet rooms, our dedicated cleaners will leave no stone unturned. We know the expectations of even the most demanding landlords and ensure that every inch of your property is cleaned to perfection.
You don't have to worry about unpleasant smells or harmful fumes after our service. Our solutions evaporate quickly, leaving behind a pleasant and fresh scent.
Up to 7-day Guarantee of the Service
In our commitment to excellence, we offer a unique "free re-clean" policy if any aspect of our service doesn't meet your satisfaction. This is a part of our dedication to ensuring that when you leave the property, it's in the best possible state. Our expert team is skilled in cleaning carpet and upholstery, using the latest products and equipment to achieve a deep clean that revitalizes and refreshes your living space. We understand the significance of adhering to the tenancy agreement and go above and beyond to guarantee that our service aligns with its requirements. We highly recommend that clients defrost their fridge and freezer in advance to enable a more efficient cleaning process.
Our services are available 7 days a week for your convenience. Should you have any queries or special requests, do not hesitate to contact us. Our previous clients would definitely attest to the great job we do, and we are confident in our ability to meet and exceed your expectations.
Locally based teams for faster response times
Our teams are constantly expanding our coverage and ability to react to any single last-minute booking. And for that reason we located more local cleaners teams in the following areas:
All the benefits of end of tenancy cleaning in one place
Going for our excellent end of tenancy cleaning service means that you are going to:
Have the property restored in a perfect condition – so good actually that no one will be able to tell someone has lived there for an extended period of time
Save much time and energy your relocation requires anyway, thus reducing the stress and strain of the whole experience
Come out with a positive budget balance, because even though you are going to pay us for the service, you will get your rental deposit back – we have nearly 100% success rate in doing a fantastic job.
We think that all of those things make for a great offer. If you share this impression, do not hesitate to get in touch with our very helpful, available around the clock customer support operators, either over the phone or via email, in order to book your post-tenancy treatment in London with our professional cleaning company. You already know that is the right thing to do, don't you?
Flexible Booking Options for End of Tenancy Cleaning in London
We understand that moving out can be a busy and stressful time for you. That's why we offer flexible booking dates to accommodate your schedule. Whether it's a weekday or a bank holiday, booking our end of lease cleaning services is always possible at a date and time that is convenient for you. The assigned team of professional cleaners by Get It Cleaned will arrive promptly and make sure that your home is thoroughly cleaned before you hand over the keys.
No matter the situation, whether you're a tenant looking to secure your deposit, a property owner aiming to attract new renters, or a homeowner wanting to sell your property quickly, our end of tenancy cleaning service is suited to your needs. We take pride in our ability to tackle any challenge, from stubborn stains to deep cleaning tasks, ensuring that your property looks its best.