Are you looking to hire an accomplished and dependable cleaning company because you are in the need of deep cleaning services? If you are, know that you can stop looking because you have found us and we are the best sanitisation experts in the city.
We got into the cleaning business numerous years ago and since then we have walked all the way to the top and become one of the favorite cleaning contractors of the local residents and business owners. We have gained our positive reputation by working hard and always providing to our clients cleaning services that match the highest standards of the industry. So, rest assured that our deep cleaning services are indeed of the world class quality and that they will impress your immensely.
Short Notice Deep Cleaning in London
You are a phone call away from booking one of the highest rated deep cleaning services in London. Our technicians will come to your property, no matter where exactly in the central or metropolitan area of London you are. They will get down to work immediately and give you a highly satisfactory deep cleaning experience at only a fraction of the price you'd expect for such a premium service. Our deep cleaning solutions in London are perfect for sanitizing both your entire property and specific portions of it, like:
Bathroom – our cleaners will deep clean the tiles, tub, shower and toilet bowl, doing much more than simply scrubbing. Make sure your bathroom is clean, sanitized and easy to maintain in the months to come by having our vetted London cleaners take care of it.
Kitchen – deep cleaning your kitchen includes thorough scrubbing and sanitation of your appliances, cupboards, drawers and surfaces. We are talking about cleaning the oven, fridge and the hard-to-reach places behind every item in the kitchen.
Bedroom – dusting surfaces, cleaning cobwebs, vacuuming and washing carpets and floors, cleaning the wardrobe, and more. Deep cleaning your bedroom ensures you lay your head at night in a healthy, sanitized environment.
Common areas – your hallways and other high traffic areas in your house will look clean and welcoming after we are done deep cleaning them.
Rest assured we leave no stone unturned with our deep cleaning in London service.
Experienced cleaning team
Our team of professional and seasoned cleaning technicians is equipped with the best sanitations machines that money can buy. With the aid of our instruments we are able to deep clean anything from carpets to upholstery to curtains and hard to reach areas. We dare say that our deep clean services are the ideal way to ensure that you have a crystal clean carpet that is free of harmful particles such as germs, bacteria, pests, dirt, dust and allergens.
The deep cleaning services that we provide are extremely flexible and can be customise to serve different purposes and requirements. So, just give us a call and tell us what you want to have cleaned and we will sanitise it for you in no time. Keep in mind that we work with a flexible work agenda, so hiring us won't be an issue. We also conduct late night operations, so if you are a business owner, know that we can come and clean your place of work during off hours.
Full extraction of dust from your carpets and rugs.Effective way to deal with germs and bacteria in the household. Safe and protective of upholstery and carpet fabrics.Sanitation of high traffic areas in the house. Lasting results and easier subsequent maintenance of the home.100% eco friendly and hazard free cleaning solutions.
Top notch deep cleaning services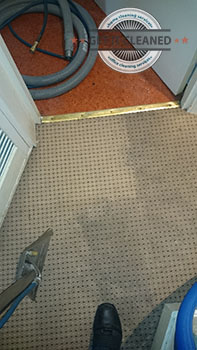 If you are still not convinced that we provide the best deep cleaning services in London, get in touch with us, so that our polite and friendly customer consultants can provide you additional information about our company, answer to all your questions and of course present to you your free quote. Once you go through your quote you will be amazed by the amount of cleaning, sanitation and spot removal services that we are ready to provide you and the incredibly affordable price for which we will do it.
Deep cleaning service you can count on at all times
In order to properly carry out a deep cleaning, one should have the necessary tools. In that respect, we can say that we exceed. All our equipment and cleaning products are truly state of the art – from the steam cleaning machines to the products we use for removing stains off carpets and upholstery – everything comes with guaranteed efficiency. A deep cleaning service is the best way to make you property easier to maintain and prolong the life of certain fabrics, so do not think twice about making use of our offer every once in a while.
We provide our services in London and its surrounding areas. The city lies in the southern parts of England and covers an area of 3.236 square miles (metropolitan area included). The English capital is home to a number of well-known landmarks such as the Royal Observatory. Situated in the picturesque area of Greenwich, the Royal Observatory was commissioned by King Charles I in 1675. Today the building isn't used for any scientific work and serves the purpose of a museum. St. Paul's Cathedral is another famous London landmark. The edifice was consecrated in 1708 and is the official seat of the Bishop of London. It's most notable features is its dome which has an exterior height of 85 meters and an interior height of 68 metres.
When talking about the landmarks of London, we cannot miss to mention the Palace of Westminster and the Royal Buckingham Palace. Other small stately homes and aristocratic residences, many of which are open to the public, are scattered across the territory of the boroughs of London.