End of tenancy cleaning in Notting Hill is a high responsibility task which is best handled by qualified, professional cleaners. Dealing with your end of tenancy cleaning accordingly is well worth it, as you would become eligible to receive your rental deposit back in full, from the landlord.
Given you have been a respectful and considerate tenant who hasn't left the rental property in ruins, whether or not you will receive your rental deposit back is solely determined by the level of end of tenancy cleaning results in the W11 area, which goes to show how important it is to choose the right cleaning company which can deal with the situation effectively. One company that can get the job done right and leave you with money to spare, is Get It Cleaned and our End of Tenancy Cleaning Notting Hill.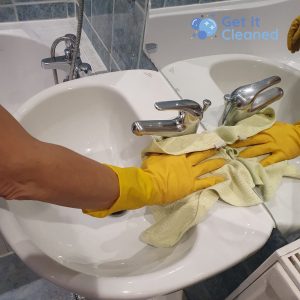 We specialise in professional Notting Hill end of tenancy cleaning solutions of the highest quality and efficiency. We have established ourselves as the local service provider of choice, because we work closely with rental customers and landlords in Notting Hill and the rest of the W10 and W11 areas, which means we have the technical expertise and industry experience to handle your end of tenancy cleaning request with all due care, precision and professionalism. When you choose us as your preferred cleaning company, you will receive punctual, reliable and attentive cleaning that will yield outstanding cleaning results across the property, without costing you a small fortune. You can expect immaculate hygiene in all rooms of the property, including tough to clean areas like the kitchen, the wet rooms, and in high traffic zones like hallways, stairs and front door areas.
Being a professional service provider with notable prior experience, we know how detailed final property inspections really are, and in order to ensure that every square inch of the rental has been cleaned to an industry standard finish, our expert cleaners will even clean out of sight or hard to reach areas which usually get missed during regular cleaning. End of Tenancy Cleaning Notting Hill by Get It Cleaned works with specially trained, professional cleaners, who have the skills and expertise to handle every aspect concerning your end of tenancy cleaning with the required pace, precision and efficiency. Working with the qualified, skilled professionals ensures better quality cleaning and no margin for error. Our end of tenancy cleaning is comfortably priced and easily accessible by customers. The service is genuine value for money and delivers exceptional cleaning results.
End of Tenancy Cleaning Islington
|
End of Tenancy Cleaning Paddington