Meeting your landlord's end of tenancy cleaning requirements doesn't have to be a costly, nerve racking ordeal as the whole process can be made much easier and more manageable by using a professional end of tenancy cleaning service, organised and provided by the local cleaning specialists from Get It Cleaned for end of tenancy cleaning Pimlico.
We are a locally based, and owned cleaning company, which deals exclusively with professional post – tenancy cleaning. The fact that we deal with a single cleaning service, should prompt customers to make us their number one choice of service provider, as we approach each end of tenancy cleaning service request in Pimlico SW1V, London with undivided attention and utmost professionalism.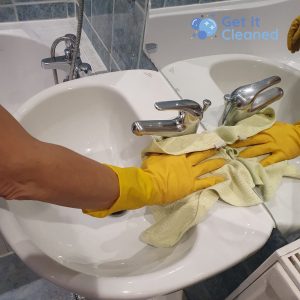 We will invest every bit of skill and effort it takes, to clean the rental property from top to bottom, to an industry standard finish, and ensure exceptional end of lease cleaning results in Pimlico which will be readily accepted by your landlord or letting agent. Our end of tenancy cleaning is a highly comprehensive service that covers all rooms and areas of the property. Being a professional and seasoned service provider, we know that heavy duty areas of the house like the kitchen and the wet rooms will be under lots of scrutiny during the final landlord inspection, this is why our diligent and well organised Pimlico, London cleaning teams will invest extra time and effort into cleaning these to a perfect finish.
In the wet rooms, all tiled and glass surfaces, including bathtubs, shower screens and toilet bowls will be descaled, disinfected, cleaned and then polished using professional grade cleaning products and materials. In the kitchen, all tiled and glass surfaces, including flooring will be degreased, sanitised and cleaned, the same goes for cabinetry, appliances and features like sink basins, food prep areas etc.
The rest of the house, including high traffic zones like hallways, staircases and front door areas will be cleaned with the same efficiency and pace, in order to deliver consistent, high quality cleaning results across the property. Our expert cleaners will even go as far as cleaning hard to reach or out of sight spots which usually get missed during regular cleaning, but must be in tiptop condition for the final inspection. As you can see, our end of tenancy cleaners in Pimlico leave nothing to chance, and ensure top quality cleaning results each time, every time. Customers in SW1V area can take advantage of punctual and convenient week round servicing, with flexible booking hours.
End of Tenancy Cleaning Mayfair
|
End of Tenancy Cleaning Stockwell