Why have boring walls throughout your home when you can bring them to life and add a more playful and interesting touch to the overall decoration theme of your household. Here are several ideas which you will find to be quite intriguing.
Patterns can create illusions and make your home more welcoming and playful. So, instead of using single-coloured wallpapering or painting the walls in a neutral go with a pattern that will compliment the overall ambiance of your home. For example if your ceilings are low, you can paint vertical stripes on your walls as they will create the illusion that your ceiling is much higher. Horizontal stripes on the other hand then to make a room bigger.
Shelving comes in various sizes and shapes. So, instead of opting for traditional shelves, think outside the box and hang extravagant shelving that will give a more contemporary touch to your home. Keep in mind that modern and creative shelves tend to have a much large storage capacity which means that you will not only alter the appearance of your household but you will also make it more functional. To only downside of shelving is that they require constant maintenance and the usage of professional cleaning services.
Nowadays you can find a myriad of wall stickers which you can stick on your walls in order to decorate your house or flat. The stickers depict various things such as paintings, landscapes, cityscapes, artistic renderings, seascapes and etc. Wall stickers are extremely easy to put in place, don't require any maintenance for your part and most importantly are sold at highly affordable prices.
Murals are becoming more and more popular amongst homeowners and interior decorators. Just like the above mentioned wall stickers, murals can be found in various sizes and tend to depict a wide variety of things. There are also artists that create one of kind and personalised murals, but these tend to be quite expensive. Of course you can always opt to paint your mural yourself and thus showcase your artistic side and creativity.
Faux paintings are wall coverings that mimic the appearance of other construction materials such as hardwood, stone, marble, brick and so on. So, even if your walls are made from plywood you can create the illusion that they are made from any material of your preference. Just bear in mind that faux paintings are very delicate and require frequent treatment from professional cleaners. Know that nowadays cleaning services are provided at very reasonable prices.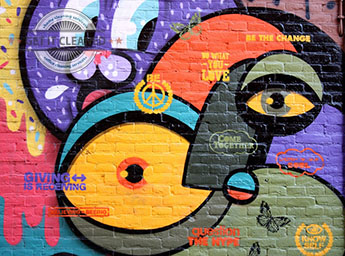 Bricked walls are interesting but multicoloured bricked walls are even more interesting. Multicoloured bricks are sold in various sizes and colours and can be easily combined to fit into the overall colour scheme of your household. The only disadvantage of choosing this option is that the placement process can be laborious and extremely time consuming.
Now that you know how you can add live to your otherwise boring walls, stop wasting valuable time and carefully consider all the options and take the decision that suits your personal preferences the most.