The easiest way to maintain a bathroom in a clean and tidy condition is to follow a meticulously well-drafted sanitation checklist. If you have never created a lavatory cleaning checklist before, keep reading because we have posted one that you can use as a base for yours.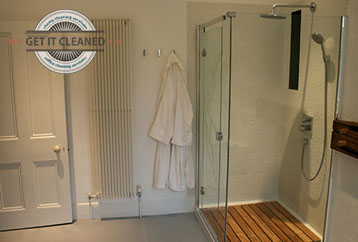 Your checklist must be divided into four separate categories (daily, weekly, monthly and annual) and you should execute which categories at its time period to the letter:
Daily checklist: Start your daily cleaning routine by replacing all the dirty towels with clean and fresh ones. Once you are done washing your hands and face and brushing your teeth, grab a soft cloth and wipe the sink, mirror and faucet clean. You should also spray your shower cabin with a specialised sanitation detergent to prevent the accumulation of harmful particles such as germs and bacteria. Finish your daily chores by mopping the floor.
Weekly checklist: Every Saturday or Sunday you should empty the garbage bin that you keep in your bathroom. Also wipe the mirror with a glass cleaning solution. After you make your morning bath, you should wash clean your shower or bathtub. This way you will avert the buildup of soap scum, dirt and dust. If you have a shower curtain you should take it down and launder it. Spray sanitizer into your toilet and allow it to stay for five to ten minutes before your wash it clean. Pour vinegar into the drains to eliminate potential clogs. Last but not least you should diligently clean your toothbrush holder. Also once every two to three weeks hire a professional cleaning company to come and throughout sanitise the hard to reach areas of your bathroom.
Monthly checklist: The monthly cleaning of your bathroom will be quite time consuming as you will have to turn extra attention to some of your bathroom features. You should start the sanitation process by washing your rubber non-slip bath mat. Then take off your curtain rod and clean it meticulously with an anti-bacterial sanitation product. Do the same with the towel hangers and rods. Wipe clean the ceiling and walls, and if your bathroom has a window clean it as well (don't forget to turn attention to the window frame). Take down the light fixtures to dust, wash and clean them. Use the duster to clean the ventilation shafts of the room and use a slight soaked microfiber cloth to remove all the dust from the fan. Vacuum the floor and when done, mop it thoroughly to pick up any residual dust and dirt particles.
Annual checklist: You should conduct the annual cleaning during your household spring cleaning routine. Replace all your towels with news one. Also use specialised soap scum remover to get rid of the residual scum which you have missed throughout the year. Wipe walls and ceiling and mop the floor, don't forget to clean the grout between the tiles with an old toothbrush. Sanitise the vents and fan. Last, reseal your flooring to protect it from the foot traffic.
As you can see maintain your bathroom in top notch condition isn't that hard if you follow a properly organised sanitation plan.