Kitchen countertops rank among the dirtiest spots in a typical home. They are a popular breeding ground for the so-called coliform bacteria such as E. coli. which causes various health problems and leads to symptoms such as fever, diarrhea, infections, vomiting and so much more. One reason behind this troublesome trend may be caused by the fact that most homeowners have no idea how to properly sanitise their countertops which come in various types, styles and materials such as:
Marble
Tile
Granite
Quartz
Stainless steel
Laminate and wood
Butcher block
Knowing the material of your kitchen countertops is knowing how to clean them like a pro.
Marble
If you want to give your kitchen a more sophisticated appearance, marble will do the trick for you. Nevertheless, make sure you rely on a vetted pro who can install them for you because this is not a particularly simple task. Also, always be mindful that marble is easy to scratch. Aggressive detergents should be avoided at all costs. Instead, opt for a mild solution of soap and warm water. In case of a stubborn stain, apply a paste made of baking soda and some water and let it do its magic for a few hours before you wipe it off.
Tile
Many homeowners believe that tile countertops are a piece of cake to clean and to maintain. That is true but only to a certain limited extent. Tiles can be quite durable and are not difficult to sanitise. Most types can even withstand cleaning products rich in toxic chemicals. Still, cleaning the grout is an entirely different story as it quickly becomes infested by bacteria, mildew and various microorganism and fungi. Vinegar and baking soda can help you maintain that part of your countertops in good condition. In more extreme cases, go with bleach.
Granite
An increasing number of people prefer to opt for granite countertops because they look amazing and are sturdier than marble. What is more, they are extremely easy to clean and do not require the use of fancy cleaning products. They are a bit pricey but the fact that they are heat and stain-resistant makes them a great investment.
Quartz
Natural countertop materials such as marble and granite are amazing, right? They look very classy and they are more durable compared to most other material options out there. But even they cannot compete with quartz. With them, you have not to worry about stains, bacteria, mildew, etc. All you need to keep them in a pristine condition is to wipe them with a wet piece of cloth every day.
Stainless steel
If you are a germophobe, opt for stainless steel countertops. They do not make a cosy home to bacteria and other microorganisms and you only need some water and soap to sanitise them. Their only downside – they smudge fairly easy.
Laminate and wood
There are different types of laminate and wood countertops but most of them have good stain resistance and can be cleaned with nearly all types of detergents and solutions. Nevertheless, make sure you stay away from abrasive cleaners as they can damage the surface of the laminate. Also, do your very best to keep them dry at all times or else they will stain, discolour, buckle or warp.
Butcher block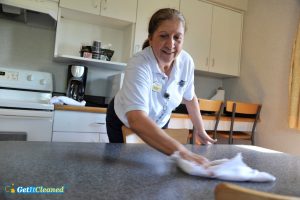 These types of countertops can be incredibly budget-friendly and durable. However, they can also be rather tricky to maintain because they stain and dent easily. Therefore, avoid using them as a chopping board and do not clean them with aggressive detergents. A simple solution of soap and hot water is more than enough to properly sanitise this type of countertops.
If you are not sure about the type of countertops you have at home or how to safely clean and maintain them, do not hesitate to rely on Get It Cleaned's comprehensive contract cleaning services in London. An experienced and fully-equipped professional cleaner can give your countertops the VIP treatment they deserve.