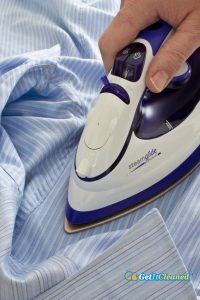 Most of us think that we can iron, right? But, are we doing it the right way or we use an ironing technique we don't know it's bad because we don't know any different? Well, there are few simple ways to improve your ironing and achieve amazing results without too much effort. Here are a few tips you can use to make ironing quick and efficient.
Use the right way to iron
What is the right way to iron your clothes? Well, you should iron in long and straight moves, and never wiggle your iron around because it may cause the fabric to stretch. This can also cause creases that will be hard to remove.
Use the "inside out" ironing technique
Whenever possible, it is advised to use an inside-out ironing technique in order to avoid any visible light shines on your clothes, especially on the dark pieces. This is caused by the heat and it is possible to avoid this by ironing inside out. This will protect the appearance of your clothes and make it look perfect.
Remove iron scorch stains easily
Ironing mistakes happen all the time. If you end up with an iron scorch mark, it can be fixed quickly by using white vinegar. Dip the cloth into the vinegar and gently remove the stain. Repeat the process using cold water this time. Do the same with the iron.
Choose the best lit room in the house for ironing
No matter how insignificant this tip may sound, it is very important. When ironing, especially lighter items, you need to have enough light to see all the creases and irregularities. Ironing in a poorly lit room is a pure waste of your time and effort. Therefore, use the best lit room and set up your board in there. You will achieve great results.
Sort the garments according to the temperature for ironing
Before you start with ironing, you should sort out your items into three piles:
delicate items that require low ironing temperature
medium garments that require medium heat
durable pieces that can be ironed with higher iron temperature
You can start ironing delicate clothes that require low temperature and proceed with more durable garments with higher temperature.
Avoid scale building inside your iron
Most of us have hard water that can cause various problems. One of them is the scale that can build up inside the iron, which eventually reduces its efficiency and causes staining on your clothes. In order to avoid this, you should boil iron water before placing it inside. This way you will have stain-free clothes and prolong the life of your iron.
Find a comfortable ironing position
Ironing can be an exhausting chore but you can take steps to make it more comfortable. For example, before you start, position ironing board according to your height. You want to avoid bending over too much and prevent back pain. This is one of the ways to do so.
Fold or hang ironed clothes immediately
As soon as you iron a shirt, make sure you hang it up immediately to prevent all your hard work go to waste. Other clothes that you don't hang up can be folded or spread on a flat surface to prevent additional creases.
In conclusion
Ironing is time-consuming and can be stressful. These tips can help you iron efficiently and quickly. But if you don't feel like ironing, consider using professional ironing services in London and get the stress of ironing off your shoulders,