Everyone knows that carpets look at their best when they are clean and properly maintained. The problem is that keeping a clean carpet or even a small area rug is a much more complex job than it may seem at first. This is why we have compiled some simple, yet very effective tips that have been tested in the field numerous times and are proven to yield optimal results in most carpet cleaning jobs.
Five basic things to know about carpet cleaning
The most important tips and strategies that you need to know for optimal carpet sanitation and rug maintenance are as follows:
Persistence leads to perfection. Carpets become dirty much faster than most other flooring solutions out there. This can happen due to general traffic, the presence of pets in the house and even generic dust build-ups. This is why you should take the time to run a vacuum through your carpets at least once every two days. In heavy-traffic areas of your home, it is highly recommended to vacuum your carpets even on a daily basis.
Procrastination is not your friend. This is generally true for most things in life, but when you are dealing with a dirty or stained carpet, you should pay extra attention. All stains should be removed as soon as they occur, especially when it comes to wine and food spills. The rule of thumb is that the longer you wait to get on your needs and blot the stain, the harder it is going to become to remove it. Ask yourself, is it really worth it to make your life harder by waiting?
Get the proper tools of the trade. Think about investing in a steam carpet cleaner. By utilising the power of steam you will be able to actually clean your rugs and carpets better and faster, and remove dirt and dust, even allergens from deep in their fabrics. What is more, steam cleaners are proven to have a beneficial effect on the life-expectancies of the fabrics and materials carpets are made of.
Bad odours are your enemy. Pet soiling and other unpleasant smells are easily removed by adding a bit of baking soda in the bag of your vacuum cleaner – as easy as that.
Have a reliable professional carpet cleaning service in London on speed dial. The thing is that no matter how often you clean your carpets and how well prepared you are for the job, there are certain instances when you just have to rely on the pros, who possess advanced tools and rich knowhow that will fix most problems that you might have.
And some bonus tips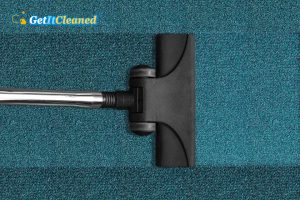 If you want to achieve even greater results when cleaning your carpets, you can try things such as mentally dividing large carpets into small squares and clean them one after the other; you should also pay special attention to those places where people sit or put their feet the most. Also, avoid rubbing spills because in this way you will make them spread to a much larger area. Just blot them with a dry, clean cloth.
Caption: Running a vacuum through your carpets as often as possible is the best way to keep them in top condition.