Moving home is often tedious. Cleaning is among the last things that you would like to be bothered with while you are planning your relocation but the simple fact remains that you just need to get this done too. A properly carried out moving-out cleaning is going to guarantee that you will get your rental deposit back. Bearing in mind how costly a house removal can be, you can use the extra cash, right?
End of tenancy cleaning 101
There are several simple rules to follow if you decide to tackle the job on your own:
Check if you can actually do it – read the fine print on your lease contract. Some contracts stipulate that you need to hire professionals to do the job, so attempting to tackle it on your own may turn out to be counter-productive

Do not rush things – the best time to do an end of tenancy cleaning is after all of your goods, furniture and small personal possessions have already been packed. Preferably, you should wait until the property is empty so that you can clean everything thoroughly. If that is not possible, at least make sure that everything you will be taking with you is boxed, and the rest of your possessions have been thrown away/stored/donated, etc.

The right tools of trade make a difference – purchase a mop, a bucket, a vacuum cleaner, detergents and other equipment that will help you achieve the results your landlord is looking for. For carpets and upholstered furniture that have suffered heavy staining and dirt build-ups, you can consider renting a professional grade steam cleaning machine
Do not be ashamed to ask for help
In case you are obliged by your contract or if you just do not feel up to the task, you should research quality end of tenancy cleaning services in London that you can fall back to in a time of need. Most moving and professional sanitation firms out there would be more than happy to lend you a helping hand, so finding a deal that is not going to put unnecessary strain on your moving budget is not a mission impossible.
And several advanced tips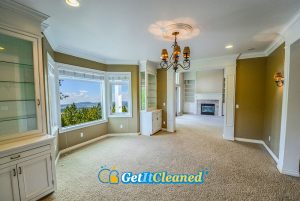 One very important strategy that has stood the test of time is to work one room at a time. Do not move to the next only after you have finished with the one that you have already started cleaning. In the same vein, it would be a good idea to clean from the inside of the property and work your way toward the outer rooms and areas. Thus, you will avoid spreading dirt at places you have already sanitised.
If there are small repairs that need to be done, do not slack off. Remember that it is your obligation to leave the property in the state that it was when you originally moved in it. Be prepared to paint a wall or two, fix a light fixture, etc. It is not as scary or time-consuming as it may sound.