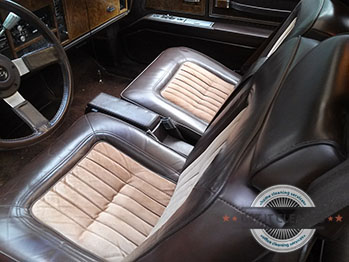 If you respect your car, and want to keep the vehicle's interior clean and fresh as you would your home or office, then you would know how important it is to keep the seats clean and free of stains and nasty smells. Generally car seats are covered in durable materials and finishes (unless the car has leather interior) which are not very susceptible to staining and keep their decent look for a relatively long period of time, without major cleaning, provided of course there are no spills and stains. However in the long run, even such material finishes are affected by dust, pollen, bacteria etc. and need proper cleaning attention. Here is a quick and easy DIY guide on how to clean your car seats and in turn freshen up the vehicle's entire interior.
Materials and equipment required for the job
A vacuum cleaner

Two buckets
Laundry detergent/car upholstery cleaner
Leather conditioner (if cleaning leather interior)
Sponge
Towel
Chamois (the leather-like cloth which is found in the boot of most cars)
Cleaning fabric upholstery seats
Before doing any large scale cleaning, treat a small and obscured area of the seat upholstery with the selected cleaning product/s as to be sure it will not cause damage to your particular type of upholstery or finish.
Thoroughly vacuum any bits and pieces of rubbish and debris from all seats, including hard to reach nooks and crannies, it is a good idea to use the brush nozzle of your vacuum cleaner for more efficient cleaning.
Fill one of the buckets with hot water, the other with cold water.
Add a moderate (correct) amount of selected cleaning product to the hot water bucket.
Dip a sponge in the cleaning solution you just made but wring out most of the liquid before scrubbing the seat upholstery;

Scrub thoroughly

all over the upholstered surface, but try not to make the seat too wet (wring out the sponge properly and consistently);
Once having treated all seats, use the cloth and cold water bucket – dip the cloth and wring it out properly, then scrub off any excess dirt and detergent from the seats using directional strokes (don't scrub and rub the cloth in circles or irregular patterns).
Process can be repeated for best results;
Cleaning leather car seats
Cleaning your leather interior needs to be done with care as damage to leather is irreversible and will set you back a pretty penny in replacement costs. Always clean leather interior with specialised products. Vacuuming leather interior and seats can be done as often as necessary without any issues or concerns.
Vacuum leather seats thoroughly, feel free to use the brush nozzle;
Apply sparing amounts (as directed) of the selected leather upholstery cleaning product, follow instructions accurately;
Wipe down the leather seats thoroughly with a slightly damp chamois cloth, make sure no cleaning product has remained on the seats;
Allow the leather seats to air dry (dry naturally);
Once seats are completely dry you may wish to finish off the cleaning process by application of a specially formulated leather conditioner. Applying leather conditioner on a regular basis will keep the seats looking and feeling better for longer;