The cinematograph was presented to the world in Paris in 1895 by the Lumière brothers. Since then films have become an integral part of our world and numerous cinemas have been opened throughout the globe. This is why we decided to present to you the oldest film houses in the United Kingdom that are still functioning to this day.
The Electric, Birmingham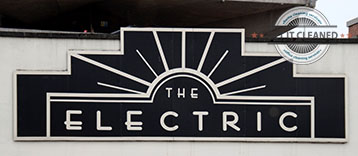 Credited to be the oldest picture house in the United Kingdom, the Electric was founded in 1909. Today, very little of the original Edwardian edifice remains as the building was remodeled during the late-1930s by its owner Joseph Cohen. The new edifice was designed by prominent British architect Cecil Filmore. The film house was once again the subject of a major alteration project during the early years of the 21st century. The interior of the cinema however has kept its art deco ambiance. The most notable feature of the Electric is that filmgoers can benefit from large and comfortable luxury sofas at the rear rows which are complimented with waiter service.
Ritzy Cinema, London
Located in the London district of Brixton, this cinema was opened in 1911 and was originally known as "the Electric Pavilion". The film house was commissioned by Israel Davis and was built by E. C. Homer and Lucas. At the time the cinema has a capacity of 750 seats and was fitted with an organ. During the mid-1950s it was renovated by the renowned cinema architect George Coles who also installed a cinemascope. The picture house was closed during the late 1970s and reopened several years later. In 2009 the original interior of the cinema was completely restored and a music hall was added to the second storey. Today, the Ritzy Cinema is one of the few old film houses in London that has retained most of its original façade. So, if you like going to be movies and want to do it in a more classic atmosphere you should definitely visit Ritzy Cinema once you're done with the carpet cleaning, for example.
Duke of York's Picture House, Brighton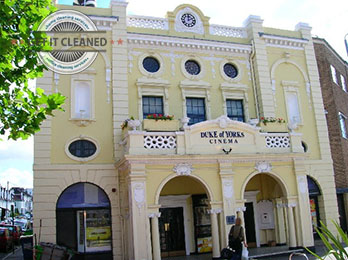 The Duke of York's Picture House was established in 1910 in Brighton and claims to be the oldest unaltered still functioning cinema in the United Kingdom. The construction of the film house was funded by the prominent English actress-manager and stage performer, Violet Melnotte (born Emma Solomon). The cinema sits on the same site where once stood the well known local Amber Ale Brewery, remains of which for the rear wall of the auditorium. The picture house is identified as a Grade II edifice by the local authorities and it one of the city's most visited and recognisable landmarks.
Phoenix Cinema, London
Built in 1910 and officially opened in 1912 as the East Finchley Picturedome, the Phoenix Cinema is the second oldest continuously running film house in the United Kingdom. It shows mainly art house productions which you should see.
Honourable mentions:
The Curzon, Clevedon opened in 1912
The Electric Cinema, London opened in 1910
Theatr Colwyn, Colwyn Bay opened in 1909