Planning a household relocation is a tough job. The main reason for this is that you have quite a lot of tasks to consider when you are creating the schedule for the upcoming strenuous few weeks. One of the most unpleasant jobs that you will need to take care of in that regard is the end of tenancy cleaning. The problem is that it is also a kind of important one, which means you cannot slack off. If you want to receive your rental deposit back and avoid problems with the landlord, it is an absolute must to make sure that your moving-out sanitation is carried out in the best possible manner indeed.
Have no fear however, there is an easy way to make the project go as smoothly as you hope to.
First and foremost – read your contract carefully
When you have first moved in your current place, you signed a contract that makes provisions about the end of tenancy cleaning when the time comes to vacate the premises. In many cases, the contract clearly stipulates that the job or a portion of it (e.g. carpet sanitation) should be carried out by a licensed professional firm. If your contract says so, you need to start looking for professional-grade end of tenancy cleaning in London right away. In this way, you will make sure to lock down the best deal possible and pay as little as you wish. Having hired experts do the job for you has the benefit of saving you a lot of time and energy that you can invest in other urgent matters related to your removal.
If your contract allows it and you are decided on handling the task on your own, just read on for some tips.
DIY end of tenancy cleaning 101
There are several rules to follow:
Pack and move as much of your possessions as possible before you commence the sanitation procedures
Make sure you have the right tools and supplies at hand
Work a room at a time, from the inside toward the outside of the property
Be ready to carry out some minor repairs on the property as well.
Sounds straightforward enough, doesn't it? Well, that's because it is.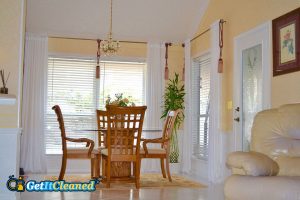 There are several areas that are more than likely to require your special attention. Those are the bathroom and kitchen first and foremost because those tend to sustain more traffic than any other part of every household. The carpets, areas rugs and upholstered furniture should also be carefully inspected and if there is damage, stains and dirt build-ups, you need to make the effort to remove them as well as possible.
Remember, you will be able to enjoy the money from your security deposit only if you live up to your contractual obligations, so do not waste time. One of the biggest mistakes that you can make is to leave the end of tenancy cleaning for the last second when you will neither have the time nor the energy to do a good enough job.