Even if you love and are good at cleaning, there are instances when one really needs to hire professionals to tackle certain tasks. Let's have a look at the five most common tasks for which people turn to professionals in the sanitation industry.
When you are moving out
Chances are that your contract clearly stipulates upon vacating the premises you need to have it professionally cleaned. Even if it does not, you will be saving a lot of time and energy by hiring a licensed firm to do the job. Thus, you will not have to worry whether or not you are going to receive a refund on your rental deposit. The investment you will make will pay off several times from getting your money back.
Spring cleaning
Spring cleaning is something that every homeowner should do. De-cluttering, getting rid of unnecessary items and properly sanitising every inch of the property, including places that you do not even see usually will improve the way the house looks, it will make it more comfortable and healthy. Needless to say, spring cleaning is a strenuous task, and unless you are ready to sacrifice at least a weekend for it, it might be best to call professionals. If, however, you decide to do it on your own, just make sure you are properly prepared.
Removing serious stains
Food and wine stains that are not removed immediately can cause quite a bit of trouble. If you have such a stain on:
Upholstered furniture
Sofa
Curtains
Then the safest bet would be to call your local cleaners and book them for a thorough carpet cleaning in London, sofa or upholstery sanitation that you need. If you have kids, pets or are hosting a party at your house, then you would want to have such services on speed dial. It is better to be prepared and not need them than to have an emergency and wonder what you are going to do.
Deep cleaning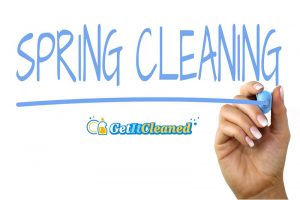 Deep cleaning certain parts of your home – attic, garage, garden, kitchen- or the entire property calls for special skills and equipment that you are unlikely to possess. So, book a team of certified and hardworking cleaners who will gladly help you finish up the job in the right way.
Caption: Spring cleaning is one of the tasks that you'd better leave to the pros
For your office
No matter whether you are running a small, family business or you are the head of a large business, there is no doubt you should not bother with cleaning your workplace on your own. Delegate the task to a trusted contractor that will send trained people to vacuum, take away the rubbish and clean the toilets and common areas at your office at the end of each business day, so that you do not have to worry about whether or not your place of operation is presentable to current and potential clients. Studies show that a clean office boosts the productivity of your employees as well.
Now that you know more about the many benefits of using professional cleaning services, you might as well give your local cleaning company a call.